March 24, 2017 By Press release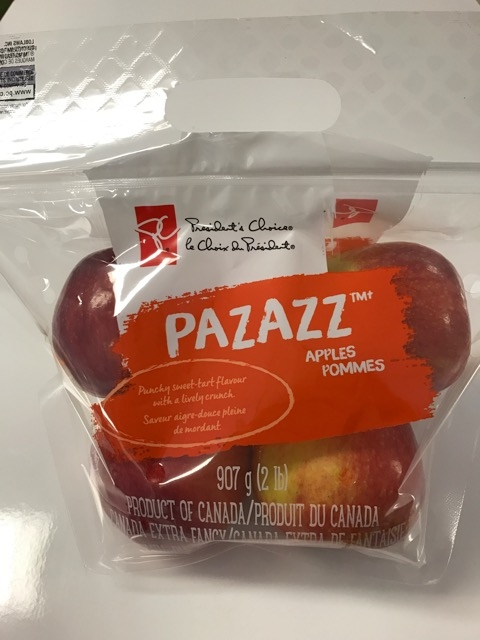 March 24, 2017, Kentville, NS – Loblaws recently recognized Pazazz apple with its top honour – selection as a President's Choice product.
President's Choice status is only bestowed on produce and other food items that demonstrate truly exceptional quality, taste and great value to customers.
Grown locally in Canada by Van Meekeren Farms, Pazazz is a premium winter apple variety and has been in development in conjunction with Honeybear Brands for more than nine years. A descendent of the crowd-pleasing Honeycrisp, Pazazz has a unique blend of sweet and tart flavours and explosive crunch that has attracted a loyal following of customers in just a few short years on the market.
"Each year there are literally hundreds of candidates for President's Choice status," says Mark Boudreau, director of corporate affairs for Loblaws Atlantic. "We consider each very carefully for perfect taste, appearance, premium quality and a uniqueness they offer to our Loblaws customers. Pazazz scored highly across the board and was an easy selection for us to make."
Available now, Pazazz will be sold in 2lb special President's Choice branded bags in select Loblaws stores while supplies last.
"This is a huge honour and we're very excited," says Michael Van Meekeren, co-owner of Van Meekeren Farms. "Pazazz is a young variety compared to many available today and because it's a winter variety that peaks in flavour in the winter months, it gives apple lovers something that is very difficult to get at this time of year – a premium apple variety with that just-picked freshness."

Pazazz is harvested in late October but reaches the perfect balance of sweet and tart flavours during the winter months, arriving on Loblaws and other retailer shelves in early January each year. This season the variety has shattered all retail goals and expectations.
For more information about Pazazz or Honeybear Brands visit PazazzApple.com or honeybearbrands.com.
---
Print this page