August 23, 2022 By Samantha Mills, OCO
Over the course of the pandemic, Ontario's farms, distributors, grocers and restaurants have seen a profound shift in how they do business. How deep do these changes go and will they last past the pandemic? That is the pressing question that the Organic Council of Ontario was hoping to answer with their Sales & COVID-19 Survey. 
OCO teamed up with Community Researchers to conduct the study. The survey ran from February to March 2022 and was conducted by Community Researcher's Michelle Goldfinger. 
About the respondents
The survey received 140 participants from across Ontario, many of whom were farmers (45.7 per cent) or retail establishments (25 per cent).  Certified organic operations accounted for 82.7 per cent of participants; 10.1 per cent reported not being certified but working with organic-certified products, and 4.3 per cent reported not being certified but following organic principles. The largest portion of participants reported earnings within the $10,000 to $24,000 range in both 2019 and 2020, at 30 and 25 per cent respectively. While further research is needed, the available data suggests that many of the smaller businesses saw an increase in revenue during the pandemic. This assumption comes from the fact that the number of lower-income earners decreased after COVID-19, while the mid-range income earners increased after COVID-19. 
Findings
The majority of respondents reported that COVID-19 had changed both their business model (86.4 per cent) and their customers' spending habits (71 per cent). The most obvious example of these changes can be seen in the increase in online sales. Overall, online sales increased by 30 to 50 per cent since the onset of COVID-19, although most businesses did experience either a mild (66 per cent) or severe (15 per cent) decrease in total sales, with only 26 per cent of respondents saying their sales were unaffected by COVID-19. In the comments, respondents noted that one of the biggest changes they experienced was the trade-off of in-person events, such as farmers' markets and festivals, for direct delivery and online shopping.  
Reflecting this transition, more participants reported having used online services for sales after COVID-19 (88.6 per cent) than before COVID-19 (79.3 per cent), although very few (5 per cent) closed their brick-and-mortar operations as a result of COVID-19. Before COVID-19, a significant number of respondents (82.1 per cent) were using direct-delivery services. Other avenues to sell products in pre-COVID-19 times included wholesale (59.1 per cent), retail (57.4 per cent), farmers' markets (57.4 per cent) and other kinds of hubs (33 per cent).
Today, respondents use their own online store (54.8 per cent), their own website (41.9 per cent), Local Line (41.9 per cent), Open Food Network (41.9 per cent) and Shopify (18.5 per cent) as tools to serve new and existing customers.
The transition was not without its difficulties. Respondents were also queried about the barriers that prevented them from adopting an online presence or using online services during the pandemic. Respondents reported that the greatest barriers to adoption included: 
Technological constraints (47.1 per cent);

The organization does not have the capacity for growth (38.6 per cent); 

Logistical constraints (33.6 per cent); and 

Financial issues (32.9 per cent).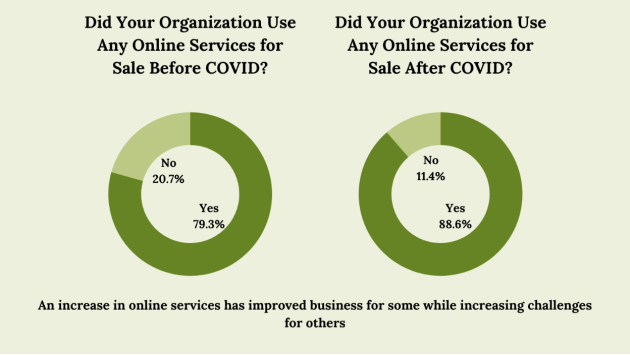 Despite these challenges, respondents were optimistic about the future, with 65.5 per cent of respondents indicating they believed their online services will continue to be in demand post-COVID-19, and 66.9 per cent of respondents indicating they believed the focus on local producers and sellers will continue post-COVID-19 as well. 
Respondents also revealed other important shifts in the market, including increased demand for raw produce (61.9 per cent), a focus on local producers and sellers (51.1 per cent) and a change in the way the industry treats workers (37.4 per cent).
The survey concluded by asking respondents what they would need to encourage a full recovery from the effects of COVID-19. The respondents offered a few of the following suggestions: 
Opportunities to network among growers;

Clarity in regulations and forewarning for event changes and cancellations;

Financial support for organic farms;

Technical support;

Government support;

Campaigns and incentives to encourage the onboarding of young people to address the labour shortage within agriculture; and

Greater connection to suppliers.
Conclusion
COVID-19 has caused extraordinary challenges and it is an event that has permanently changed many aspects of our lives and businesses. Ontario has felt this strain, with the majority of survey respondents (53.6 per cent) reporting that COVID-19 affected them negatively. Things like burnout, labour shortages, supply chain disruptions and technical issues were all stated as things that businesses struggled with. Yet, across Ontario, we have seen business owners demonstrate their adaptability and their resilience in the face of such harrowing adversity. 
About the Organic Council of Ontario
The Organic Council of Ontario (OCO) is the voice for organics in Ontario. We are the only full value chain organic association operating at the provincial level. We represent over 1,400 certified organic operators, as well as the businesses, organizations, and individuals that bring food from farm to plate. OCO is always looking for new ways to support organic agriculture, you can support OCO's initiatives at the organiccouncil.ca.
---
Print this page