AgAnnex Talks
Top 4 Under 40: Jason Lanoue
May 19, 2022
---
Sponsored by
Category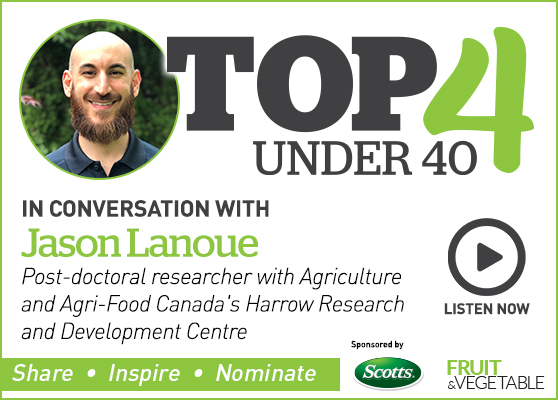 Welcome to the third episode in our 2022 Top 4 Under 40 series. These three episodes will feature conversations with the winners of Fruit & Vegetable's recent contest, which sought to recognize the industry's young trailblazers.
Jason Lanoue ended up working in horticulture in a bit of a roundabout way. Initially going to the University of Guelph for biochemistry to be a doctor, he credits a timely opportunity and his experiences on his grandparents' farm with the switch to agriculture. In this episode, Fruit & Vegetable editor Alex Barnard and Lanoue, post-doctoral researcher and greenhouse scientist with Agriculture and Agri-Food Canada, discuss technology in the greenhouse, bringing new approaches to old questions, and how people from any background should consider a career in agriculture.
Never miss an episode by subscribing to AgAnnex Talks on Apple Podcasts, Google Podcasts, Spotify, or wherever you listen to podcasts.
Sponsored by