Features Business Policy
Wild blueberry harvest in Eastern Canada promising
January 22, 2013 By Dan Woolley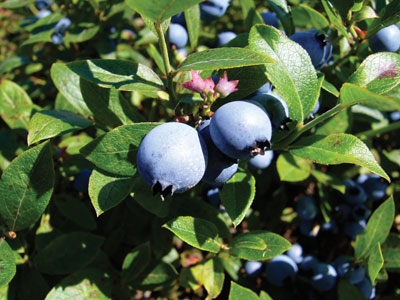 Nova Scotia wild blueberry growers in 2012 will likely harvest more than 40 million pounds from 44,000 acres in production, Peter Burgess told the Wild Blueberry Producers Association of Nova Scotia during the organization's recent annual meeting.
Burgess, a crop specialist with Perrenia, Nova Scotia's extension and agricultural consulting agency, told the WBPANS the current five-year annual harvest yield average was 32.5 million pounds.
He stated the 2012 wild blueberry harvest was the most consistent year for yield in the past three years, with the peak yield year in 2003 with 57.3 million pounds from 36,000 acres.
"We have increased acres but we have not really increased our yield," he said.
Some Nova Scotia wild blueberry fields had amazing yields of 8,000 to 9,000 pounds per acre, said Burgess, who also insisted the Nova Scotia wild blueberry industry needs to look at increasing its yield per acre.
A late April cold snap damaged some of the fruit-bearing plants and there was scattered yet heavy Monolinia Blight pressure across Nova Scotia, said Burgess. He added that the mid-bloom period for wild blueberries was afflicted by a three to four week wet, cold period. There was also very heavy Botrytis infection and in some areas, up to a 50 per cent fruit bud loss.
Wild blueberry growers in 2012 also experienced excellent weed control with a dry July followed by timely mid-August rains, which saved the crop yield, according to Burgess.
Nova Scotia blueberry growers expressed a huge demand for pollination and 4,400 hives were brought in from Ontario, the first time hives have been imported into Nova Scotia, said Burgess.
New Brunswick had 31,000 wild blueberry acres in production in 2012, harvesting a crop of about 45 million pounds, with 31 million pounds alone coming from the Acadian Peninsula in northeastern NB. Pollination in the province occurred with 61,000 local hives, augmented by bees imported from Quebec and Ontario, noted Burgess.
Other parts of Eastern Canada also experienced a good 2012 wild blueberry season according to Burgess. Prince Edward Island had an excellent year with more than two million of wild blueberries harvested at 14.2 millions pounds. Quebec growers harvested 62 million pounds, while sustaining 15 to 50 per cent frost damage in some of their fields.
Newfoundland and Labrador dropped to 280,000 pounds in 2012 from 2011's 500,000 pounds due to a spring frost damaging the wild blueberry plant's blooms. ❦
---
Print this page