January 15, 2014 By Press release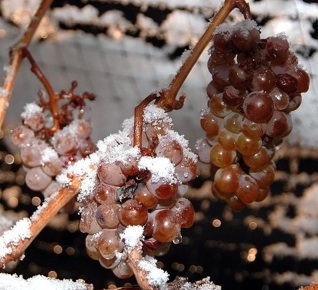 January 15, 2014, Toronto, Ont – The Grape Growers of Ontario (GGO) is raising a glass to toast the record grape harvest and celebrate this winter's Icewine harvest.
"Ontario's grape harvest set records this past autumn. It's another superb harvest and it's promising in terms of the quality of the grapes," said GGO chair Bill George.
His comments came as the GGO, joined by Premier Kathleen Wynne and Tracy MacCharles, Minister of Consumer Services, released the harvest results at the Queen's Quay LCBO store in Toronto, with an Icewine tasting sampled from an "Icewine Luge."
The 2013 harvest is a record-breaking 79,756 tonnes of grapes, valued at $99.7 million. These grapes will produce enough wine to create the equivalent of 1,134 Olympic ice rink surfaces.
"Ontario's grape growers know that great wine starts with quality grapes," says George. "Growers are proud to grow the grapes that go into Ontario and VQA wines."
As well, more than 6,000 tonnes of grapes were netted in the autumn and left to be harvested for Ontario's celebrated Icewine production. Authentic Icewine grapes must be frozen on the vine at a sustained temperature of -8 Celsius or lower, and pressed immediately while still frozen. This winter's icy weather has provided several nights of ideal temperatures for Icewine harvest.
"I want to congratulate Ontario's grape growers on a record harvest for 2013," said Wynne, who is also Ontario's Minister of Agriculture and Food. "I'm committed to supporting this innovative industry and I encourage consumers to choose Ontario wines throughout the year. Strengthening the grape and wine industry is part of the Ontario government's economic plan to create jobs and support a dynamic and innovative business climate."
---
Print this page